Why work with an ecommerce consultant?
An Oracle study shows that 86% of customers are willing to pay more for a better online customer experience. Meanwhile, 89% said they would jump ship after a poor experience. Building a meaningful ecommerce strategy can play a crucial role in transforming your site's user experience and your business overall. Consulting with the pros will help that strategy evolve.
Why work with an ecommerce consultant?
Substantial ecommerce growth starts with the right strategy. You don't want to invest money in random changes without a clear roadmap for what you want to accomplish and ways to measure those objectives. Ecommerce initiatives should be backed by solid planning and research.
The job of an ecommerce consultant is to help you:
As part of Acro Media's ecommerce consulting services, we focus on helping you solve your organization's problems today — whether operational or technological — and create a business growth strategy based on a more positive user experience.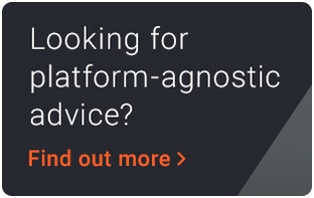 Ecommerce is more competitive than ever before since the pandemic. Ecommerce retail sales are expected to reach $6.54 trillion by 2022, with more companies than ever competing for that market share. From enhanced personalization to chatbots, voice search, and mobile shopping, ecommerce consultants can help you implement the latest trends, so you don't get left behind.
At the heart of digital transformation lives a three-step process. An ecommerce consultant will help your organization:
With a strategy and plan in place, you can move forward on the technical aspects of embracing headless ecommerce to meet your business objectives.
If you've been stuck, losing customers, facing cart abandonment, or just not growing as you'd like, it helps to get back to basics and evaluate the functional requirements surrounding a positive user experience. These include:
An ecommerce consultant will start with a review of the functional requirements of your ecommerce site. From there, we can determine if where to invest your time and money to efficiently get it done. One possibility may be a headless ecommerce platform that can help your organization achieve your objectives more efficiently. Another may be suggesting changes to your workflows and adding in automation to make manual tasks easier and free up valuable time. That all starts with a consultation to assess your needs.
Fortunately, you don't have to spend a ton of money or invest in growing your in-house team to gain the benefits of a really, really good ecommerce strategy. The ecommerce consultants at Acro Media can help lead your organization through digital transformation, provide a digital transformation blueprint to steer the project efficiently, and offer an unbiased, outside perspective to solve complex problems. We'll also help you determine when replatforming is necessary to give your customers a better ecommerce experience.
If you'd like to get to know the Acro Media team a little better before diving in, why not schedule a free chat with us?

---
Dawn Allcot is a full-time freelance writer specializing in technology, ecommerce, and finance, and is the owner of boutique content marketing agency Allcot Media