Why speed-to-market is essential for telecom digital projects
To stay ahead of competitors, telecommunications providers rely on being the best and the first to get a digital project to market. Partnering with a technology consulting firm that lives and breathes Agile development assures speed-to-market for telcos.
A modern development approach is key for new telecom digital projects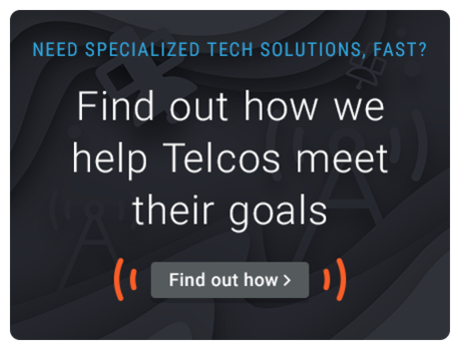 Whether you're building a new digital solution or integrating legacy systems in a new ecommerce front end, you don't want delays to jeopardize sales. In the race for market share, telecommunications providers need a partner that uses development methodologies founded in Agile values and principles as part of their brand DNA. When you're building solutions to validate your business strategy, speed-to-market is even more critical, enabling you to test, fix, and repeat to achieve the best results. An Agile-backed development approach aids telco digital projects in this process, enabling scalable, flexible solutions that can keep an organization ahead of its competition.
When new products launch in the telecom industry, servers may crash from the demand. Having a flexible, scalable solution built through agile development can help ensure market leadership.
Acro Media's strategic development method, an agile tool, streamlines the build for digital projects, enabling communications providers to get up and running faster and more efficiently. The process begins with identifying the needs of all stakeholders, diagramming the digital workflow and server architecture, and then working to determine the status of each software module. In addition to new components that must be custom-built, this analysis will also reveal which modules require:
How TELUS beat competitors with an Agile approach
TELUS, Canada's second-largest telecom, required greater market agility and ownership over their platform to increase speed-to-market for new product launches, such as an iPhone pre-order launch. Working with Acro Media, the company was able to navigate the launch without a single crash, beating its competition with up to 21% more pre-sales on one of the hottest Apple products of the decade.
In recent years, telecom companies have embraced modern, Agile-based processes at scale to reduce development costs and increase speed-to-market. Consider the below statistics about telcos and other companies that have embraced agile beyond software development and into every area of their business:
With so many tremendous benefits, it's surprising every telecommunications provider hasn't taken the leap to a SCRUM framework of Agile values and principles for all of their digital projects.
For a telecommunications organization, the cost of failure of any initiative can be high. It can be scary to adopt the test-and-learn mentality agile organizations use to improve speed-to-market. However, partnering with a firm that understands the benefits of agile development can help telecom leadership embrace the agile mindset.
Acro Media's strategic development method embraces working in sprints, rather than taking a waterfall approach where developers continue working on a job until it's done. Instead, SCRUM methodology breaks digital projects into bite-sized pieces. Smaller segments of the project get finished in iterations until it's done and ready to go live. This approach has other advantages, too — it:
Need a partner that understands the complexity of working with telecommunications teams? Contact Acro Media today to feel out how our team can bolster and streamline your efforts.

---
Dawn Allcot is a full-time freelance writer and content marketing professional specializing in technology, e-commerce, Web development, personal finance and real estate. She is also the founder of Geek Travel Guide, a travel, tech, and entertainment website.