Web design - The post-template age
Your business is the product of your passion, hard work, drive, and tenacity. No matter if you are a start-up in the tech industry or an established law firm, your company works to provide unparalleled service to your industry – and your website needs to do the same.
As of January 2021 there are a whopping 1.2 billion websites in the world and it is calculated that $0.56 of every dollar spent offline was influenced by a digital interaction, and these figures continue to rise. With such rapidly increasing numbers, the importance of a strong web presence is essential. The key to online success is a thoroughly planned, executed and maintained website.
So how do I get that and how do I know I'm getting what's right for my business?

It's actually quite simple, you need exceptional and unconstrained web design. For thousands of corporations around the world, Drupal has been the solution. With unmatched flexibility, Drupal has the power and security to run everything from a simple static website to highly complex corporate ecommerce solutions. Its winning formula comes from the continuous development of open source custom modules, each architected and built with the specific needs of a particular client's business in mind. These modules are what make your website truly customized, something a basic templating system cannot do.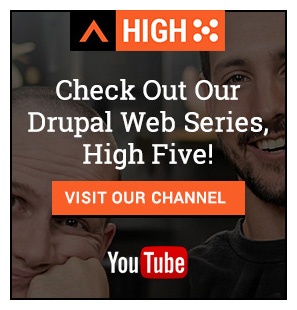 As with many things in the business world, approaching a website build or redesign can be a daunting prospect. With countless companies hitting you with web jargon and promising the lowest price and a coveted top spot in Google, it can quickly become frustrating, and the easiest option might seem to be an online DIY website builder. The key here is to step back and remember the importance of a correctly built site that has user experience in mind, and not just any user - your users.
Standard off-the-shelf website template use is rife because it's quick; but with so many sites across the internet using them, even general non-technical users are becoming subconsciously savvy to recognizing a template layout. At the very least, an increasing number of users can recognize a layout that is similar to a common template. For example, let's look at Jobify; this WordPress template costs very little, but at the time of writing has been downloaded almost 14,000 times - that's 14,000 identical looking websites, maybe with a different colour scheme. On the other hand, a custom website is exactly that, custom to the exact needs of your business.
A template is simply designed to cover most of the bases that many companies may want.

Think of it as buying a suit: You can walk into a high street chain and buy an off-the-shelf suit
(the template) and it might look okay, but it probably doesn't fit too well, and likely isn't as comfortable as it should be. Plus there could be 3 other people ahead of you in line buying the same suit, maybe with a different tie or belt. Or you can opt for a tailored suit, where somebody will meet you personally, take your measurements and create the suit so that it specifically fits you.
To help illustrate the need for customization and a responsive web design, let's look at one of our clients – Nibs.com. They sell high-end, custom-made fountain pens which feature a huge variation of shafts, with which some nibs will and won't work. From there each of these nibs can be further customized to suit the user's preferred writing hand and style, thus creating a tangled web of compatibility issues. Due to the complex nature of the products, no out-of-the-box template could be the requirement to architect such a website. The end result of the customized site was over a double in sales for the client.
But my website doesn't require that much intricacy. Maybe I don't need much customization?
Maybe not now, but in the future as your business grows and evolves it just might. It's important to future-proof your website and having the adaptability which results from customization could prove to be extremely cost-effective further down the road. This will be particularly so for an eCommerce business where products ranges, types, and variations could grow exponentially.
Okay, so what does Google think about customization vs templates?

No matter if you are running a sales-driven ecommerce site, or a lead-generating site, providing the template has been coded well Google actually doesn't care if you use a template or a custom build.
Google is looking for a site that provides thorough and concise information on a fast-loading, mobile-friendly platform. Oh, and let's not forget that Google also wants to show websites that are easy for users to navigate – good user experience design and custom build go hand-in-hand when done correctly.
Although many templates are built to be responsive, it's unlikely a template will tick all the boxes from a search engine optimization point of view. For example with a custom design you know the code that's written is the only code you need, there will be no wasted extra code being rendered for features of the site you don't want.
This additional rendering time may not be noticeable to a human, but Google sees nanoseconds and it's all taken into consideration. Just as much as branding and public voice are unique to a company, SEO is also extremely unique to a company depending on the business type, location, target audience and competition.
A custom build will mean that everything is optimized for your company's needs. Certainly, templates do allow access for easy updates of the basics such as meta descriptions and alt tags, however, they become problematic when you want to be strategic with your H tags, or implement something such as Micro Data or Accelerated Mobile Pages (AMP).
Now, if your site currently uses a template there's no need to panic — you can think of it as a stepping stone to a customized site. The other good news is that providing you have Google Analytics or something similar installed, your existing site has been collecting valuable data which can provide insights into your user's behaviour, thus speeding up the evolution of your new site build.